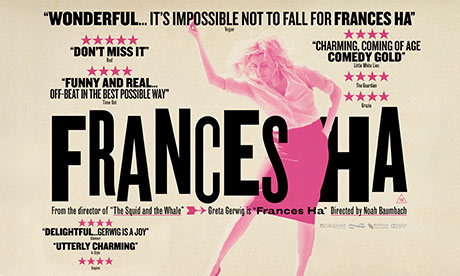 Frances Ha
(2012)
Written by: Noah Baumach & Greta Gerwig
Directed by: Noah Baumach
Starring: Greta Gerwig, Mickey Sumner
My Rating: 7.8
Worth: 2 hours multitasking, cost of rental
Clairometer: Erin Brockovich
Frances: It's Complicated.
Andy: Is it because what you do is complicated?
Frances: No. It's because I don't do it.
If you've ever said, "well that was a little too 'indie'" after watching a movie, avoid
Frances Ha
. For example, it is in black and white, for no explained reason, cigarettes are practically a main character in the first half of the film, and it's filled with lines like "I internet-acquired three pair of very rare Ray Bans; I'm doing awesome." However, if you can weed through the urban-outfitters wardrobe and
Girls
'-minus-the-nudity vibe,
Frances Ha
is a very good film.
"Sophie, I f*&cking held your head when you cried, I bought special milk for you, I know where you hide your pills, don't treat me like a three hour brunch friend!" - Frances
This is a love story of two best friends, Sophie and Frances. They lived together in college, then got a small apartment in New York together after graduation. But as life often does, it separated them. Frances must learn to grow up and live without Sophie by her side. Frances' dependence on Sophie is not a matter of finances or because Frances has trouble being alone. Sophie gives her a confidence to be herself that no one else can.
Frances Ha
is a grown up
Frozen
, with less singing and more dancing.