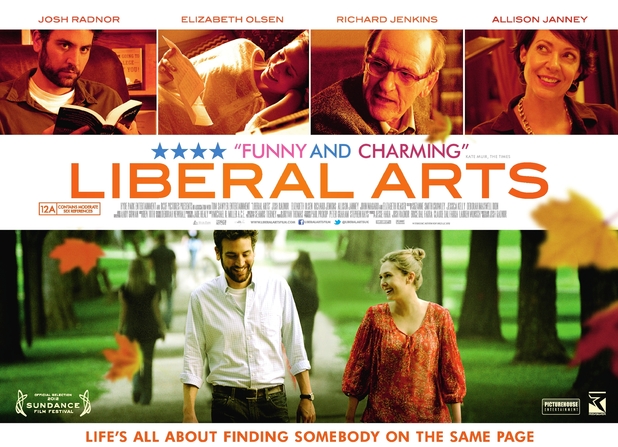 Liberal Arts
(2012)
Starring: Josh Radnor, Elizabeth Olsen, Allison Janney, Richard Jenkins, Zac Efron
Written and Directed by: Josh Radnor
My Rating: 6.6/10
Worth: On Demand/DVD rental, 2 hours, 3/4 paying attention
Clairometer: Mathilda
Jesse:

Y

ou think [college] is a prison?
Peter:

A

ny place you don't leave is a prison.
"College was the best four years of my life." I hear this said frequently. But if you're a dorky dad you make the "best 6 years of my life joke

."
Perhaps p
eople say this because it was their first look at freedom. Or perhaps for some, it's sex, drugs and rock and roll. Or perhaps people just tend to romanticize the past in general. Who really knows. Jesse, the main character is a man in his thirties unhappy with the current state of his life - like all of Josh Randnor's roles. He returns to his alma mat

e

r at his former professor's request to attend his retirement party. To say that he goes back to college isn't accurate. That phrase might lead you to think it's a Hangover-type film. He somewhat goes back to the classrooms of college and encounters a plethora of interesting characters - including Zac Efron's character in whom I still can't quite find the purpose. If you can, leave a comment and let me know. Jesse finds himself wanting to stay in college, where he thought anything was possible and he learned new and artistic things daily. But is it that he was so focused on the past that he did not life out his present? Living in the moment is a cliche for a reason, because we can be trapped by any place that we never leave - even if it's the past

.
"You know [David Foster Wallace] said that the purpose of fiction is to combat loneliness. Although spending most of your time with an eleven-hundred page book tends to put a dent in your social life."
I've often wondered who is smarter: a person who is well-read or a person who is well-lived. As with any philosophical question posing two sides, the answer is finding a balance. But what happens when our tendency is to retreat and live out the lives of others through fiction? I fall prey to this desire far too many times. Do we revert to our pajamas and a good movie or book because that's what we like? Or because that's where we feel safe and we are afraid to be the leading ladies of our own lives? Liberal Arts is a good film, in that it challenges us to do both - that is, to read books, watch films and hear scores because they enlighten our souls; but also, to live today well. If you want to feel more intelligent, while you're sorting files or cleaning out your hard drive, this is the movie to watch.
"Grace, I realized, is neither time-nor place-dependent. All we need is the right soundtrack."
This film left me wanting to read a good book, put on Bach and contemplate the meaning of life. Good soundtracks can change your day. Liberal Arts challenges us to step away from the latest alternative band and play something that can be a score to the film that is our present life. Who decides that that particular Indie band is good? Who decides what is good taste? Zibby, Elizabeth Olsen's character, challenges us to answer "ourselves" to those questions. Read something because it's fun. Listen to something because of the way it makes you feel. Don't be weighted down by the thought that someone might flip through your iPod and see Sister Hazel. Don't jump at the chance to toss the phrase "guilty pleasure" around. Embrace the things you enjoy and stand by them because they are what make you unique.
But what would Jesse say to this? Taste is taste, some people have it and others don't. People like Jesse might never find joy in discovering his own brand of the arts. And people like Zibby might never be quite as knowledgeable. But I ask you, who will have the better life?