The English Teacher
(2013)
Starring: Julianne Moore, Michael Angarano,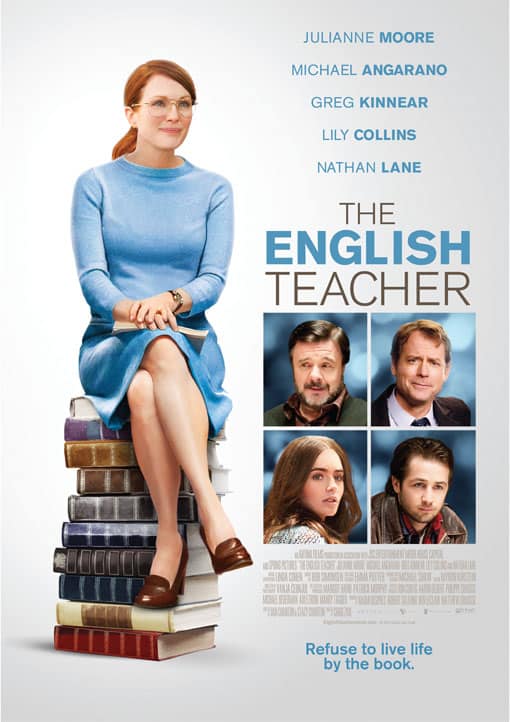 Greg Kinnear, Lily Collins, and Nathan Lane
Written by: Stacy and Dan Chariton
Directed by: Craig Zisk
My Rating: 5.3
Worth: 2 hours with lots of multitasking, no money
Clairometer: Erin Brockovich
I had high hopes for this, as quiet, bookish middle aged women are not typically protagonists. Calling an author trite is a plot point and apparently the worst thing one can say to an artist; however, I can't help but use it in describing this movie. Here are some steps to making a cliched film...
Make a woman smart but "ugly" by pulling her hair back and throwing on unattractive glasses. (even though she's clearly very attractive, and everyone notices anyway)
Make her fall down a lot in order to show that she's still funny.
Show her going on failed blind dates in the beginning of the film to demonstrate why she makes the wrong choices in men later on in the film.
Show her eating massive amounts of junk food to display her "depression."
Make all the teenagers rude, obnoxious and completely ungrateful.
The English Teacher involves a lonely woman (see numbers 1 - 4 above) whose life gets a little more theatrical when she encounters a 20 something former student. The film leaves many things unresolved, which is a no-no in old-fashioned screenplay writing 101. However, more and more films tend to do this these days so I suppose it is no longer taboo. That being said, something was clearly still missing. She is punished throughout the film for one wrong decision in a lifetime of impeccable service and devotion to her students. Perhaps that is a reality of life, but the tone of this film does not match such a dark theme - if that was the authors' intention. There are funny moments and Julianne Moore is lovely as always. Watch it if you are incredibly bored and don't have access to any of the movies listed in my
5 romantic movies that you might have missed
post.